PHARMA CONGRESS HYPOTHETICAL
Nopharm Pharmaceuticals: A Company Story (in 4 Acts)
THIS CASE STUDY, THE COMPANY, AND ALL CHARACTERS ARE FICTITIOUS, AND ANY RESEMBLANCE TO ANY REAL COMPANY, PERSON OR EVENT IS PURELY COINCIDENTAL
CAST OF CHARACTERS
WRITTEN AND DIRECTED

NOPHARM PHARMACEUTICALS
INTRODUCTION
Nopharm Pharmaceuticals manufactures and sells an FDA approved pharmaceutical, Myphan. Myphan has been on the market in the United States since 2003 and has been approved by FDA for use as an anti-hypertensive. It has many competitive alternatives. Myphan has been on the market in the European Union since 2000 and generally worldwide since 2001. Endocrinologists are prescribing Myphan for diabetes related circulatory problems and neurologists are prescribing it for the treatment of Alzheimer's disease.
THE COMPANY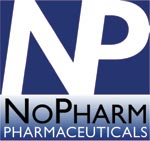 Nopharm is a publicly traded Delaware company, with its primary place of business in Omaha, Nebraska. It has manufacturing facilities in California, Australia, India, and Munich, with sales and marketing offices throughout the world. It has 30,000 employees worldwide. Nopharm has a broad product offering, but revenue growth has slowed in the last several years, largely due to patent expirations and a scarcity of drugs in the pipeline. Its stock, traded on the New York Stock Exchange, reached an all time high of $186.27 per share in 2000. Its current price is $49.00 per share with a 52 week trading range of $46.50 to $51.23. Company employees with stock options are, needless to say, disappointed.
SENIOR MANAGEMENT
The Senior Management at Nopharm is a diverse group that has been unable to work together, despite repeated efforts at "teambuilding." With the stresses brought on by the poor performance of the company's stock, the management team has found itself often at odds about strategies, directions and getting along in general.
CEO Mary Thomas was promoted to that position in 2003. Mary's reputation and tough management style convinced the Board that she could "provide tough, aggressive leadership" at Nopharm. Mary began her career as a sales representative in 1980 and her rise through the Nopharm ranks was facilitated by the development of her bold, abrasive and impatient management style, cutting remarks, lack of compassion and icy glare that have routinely reduced to tears even the most thick-skinned Nopharm veteran. Her backdoor intrigue and lack of loyalty to subordinates earned her the moniker "the Queen of Hearts" from her detractors.
When appointed CEO in 2003, Mary proceeded to outline to Wall Street a comprehensive reorganization plan that would end the Company's stagnant growth. While Mary's plan initially received wide favorable publicity, tangible results were slow in coming as Mary became bogged down in corporate infighting and lack of coordination between various departments. When little progress was made in revitalizing the Company, Wall Street quickly soured on her, and Nopharm's stock as a result has languished. Her stock options remain under water and she has grown increasingly desperate to restore her reputation and her shrinking portfolio.
COO John Lopez was brought in by Mary in 2003. Having grown up in Brazil, he began his career in sales with a medical device manufacturer in Hong Kong in 1993. After his time in Hong Kong, he moved on to Europe, becoming increasingly comfortable with his global perspective and the international limelight. He was recruited by Nopharm from a European-based pharmaceutical company and his "continental" style and manners have been the subject of much talk among longtime staffers at Nopharm. His aspirations, none too hidden, are to head either Nopharm or another major pharmaceutical enterprise. His broad global perspective on the pharmaceutical industry created explosive fireworks with Mary. Their relationship quickly became strained as they were like "oil and water." John, it is no secret, has approached both the Board and various headhunters to "explore his options."
Another member of the Senior Management team is CFO Larry O'Brien. A CPA by training, Larry received his MBA from Stanford in 1995. A self-proclaimed star in the making, Larry's facility with numbers and his corporate finance moves made him the talk of financial circles, and a quick favorite on Wall Street. He once remarked at a cocktail party that "give me a quarterly goal and I'll give you the numbers to back it up." "Mr. Flexibility" has his dot-matrix Wall Street Journal photo, accompanying the story when he was named CFO of Nopharm in 2003, framed and in a prominent position in his office, next to an oversized, autographed photo of him shaking hands with Donald Trump.
Other members of the Senior Management Team at Nopharm are Tony D'Amico, General Counsel, and Daniel Grant, Compliance Officer. Tony joined Nopharm as General Counsel in late 2004, and was new to the pharmaceutical sector. His broader ambitions are to move to a more senior management position. He viewed the regulatory process in general in pragmatic terms, being a long time "deal" lawyer in the mobile home business. His motto is: "business is business and companies need to compete on a level playing field." Admittedly he has little sensitivity to the complex regulatory environment in which Nopharm operates.
Daniel is new to Nopharm, starting as head of the compliance team two weeks ago. He reports to Tony, but has yet to be able to schedule a meeting to discuss his plans with the very busy general counsel. Daniel has a decade of compliance experience in the pharmaceutical industry and is highly regarded. His critics sometimes view him as "too timid and agreeable" for the job.
NOPHARM DEPARTMENTS
RESEARCH AND DEVELOPMENT DEPARTMENT
The Research and Development Department at Nopharm, unlike the Senior Management Team, has been in place for some time, but it has struggled to produce new drugs and bring them successfully to the market. Its critics would say it has been in place "far too long" and that "new blood was needed." The Department is led by Dr. Sam Mills.
As Director of Research and Development and an Executive Vice President in the Company, Dr. Mills received his MD from Yale and his PhD from UCLA. He became Department Head in 1991. His long standing ties to the industry and his relationships with FDA have always been a benefit for the Company. As a result of his career long relationships with FDA staffers, Nopharm has enjoyed a somewhat unparalleled success in moving drugs through FDA. Oblivious to the "appearance of a conflict of interest," he entered into a collaborative relationship on a part time basis with FDA staffers in the late 1990s. This collaborative effort amounted to the creation of a new nonprofit entity focusing on drug safety, although the organization never received its formal tax exempt status before being abandoned by the parties. The subsequent fallout and OIG investigation left inconclusive results.
Dr. Mills has the reputation of seeing the big picture, but has little patience for "details." He has been a perennial "problem child" for corporate compliance efforts, usually being perceived as oblivious, rather than manipulative, towards regulatory requirements. Reaching the end of his career at Nopharm due to mandatory retirement age, he is burdened with guilt by his inability to revitalize the drug pipeline.
The one time heir apparent to Dr. Mills, Dr. Regina Saxe, joined Nopharm in 1990 and had worked closely with him for a number of years. She often dreamed of being appointed as Chief of the Research and Development Department upon Mills' departure or retirement. Despite early commitments from Mills to Dr. Saxe about her being his heir apparent, those promises were made less frequently and it now appeared to all that Dr. Mills had "forgotten" his pledge. Dr. Saxe is increasingly frustrated with what she views as the "glass ceiling" against which her career has bumped up against. Pragmatic, yet a scientist by training, she became convinced early on that Myphan had "no substitute." Her scientific judgment, some would say, had been impaired by her belief that Myphan would vault her to the top.
Dr. Frank Amato came to Nopharm about the same time as Dr. Saxe, after finishing his training in Italy and after a short unsuccessful stint with a Swedish pharmaceutical manufacturer. Viewing himself as the "real brains" behind the Myphan pharmacological developments, he felt slighted both in the approval process and in the implementation of the subsequent FDA strategy. More of a skeptic of Myphan, he was disturbed by the clinical trials strategy implemented by the company and the "selective reporting" of clinical trials results. He has also been critical of Dr. Saxe's administration of the research advisory committees for Myphan. Barely disguising his concerns, Dr. Amato was heard to remark to other staffers that "these were marketing, not scientific committees" and that "the whole process of using the advisory committee strategy needed a complete top to bottom review." In many ways he hoped that, by questioning both Mills and Saxe's strategic initiatives, he could be seen as the "prudent visionary" in the best position to lead Clinical Research in the future by preserving its scientific integrity.
The initial clinical trials resulting in EU and FDA approval for Myphan seemed remarkably free of significant side effects. In fact, it was too good to be true. Soon after US launch, isolated reports from Nopharm's pharmacovigilence efforts reported some disturbing data. Patients receiving Myphan for treatment of diabetes were seemingly experiencing an increase in strokes. The frequency of these reports increased and soon Dr. Mills convened his R&D team with senior management to chart a course of action.
At that "all hands" meeting, Dr. Saxe revealed that she "noticed" some similar events in early clinical trials, but became convinced that these "anomalies" could be explained by not controlling for unmanaged hypertension. On further probing by Dr. Amato, Dr. Saxe admitted that she did not disclose these results either to the FDA or to the clinical trials registries used by Nopharm. Her justifications for non-disclosure were based on the concern that too much competitive and proprietary information might be revealed that would damage product launch.
Senior Management decided as its action plan to institute a Phase IV study to examine the issues. Despite concerns being expressed from Dr. Amato who urged immediate FDA disclosure, Mary concluded that action was premature under the circumstances as "more data was needed." Larry O'Brien urged caution as he didn't want anyone "blowing his quarterly numbers." Reports of other "events" soon circulated throughout the Company.
NOPHARM PHARMACEUTICALS ORGANIZATIONAL CHART
NOPHARM PHARMACEUTICALS SIGNIFICANT RELATIONSHIPS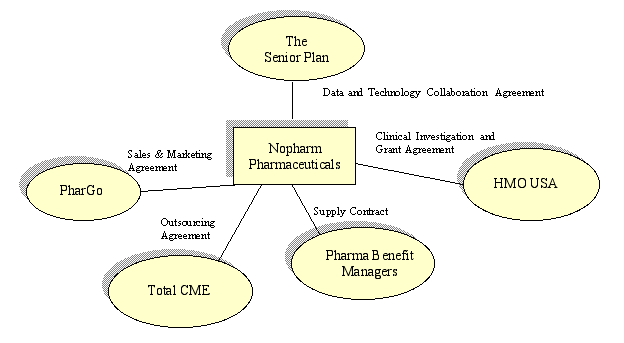 Meanwhile, as part of the Myphan product launch and follow on strategy, Dr. Mills directed the establishment of three Advisory Committees to be administered by Becky Will. The Advisory Committee concept had been used in a variety of contexts by the Research and Development Department and was a widely accepted corporate strategy to obtain input from physicians in the field. The three Advisory Committees for Myphan consisted of internists, endocrinologists, and neurologists, respectively. Becky was also able to identify leading physicians in the field some of whom also served on Pharmacy and Therapeutics Committees for Prescription Drug Plans who were in the process of implementing their plans for the roll out of the Medicare Prescription Drug Benefit beginning January 1, 2006. The success rate in getting these physicians to serve on Nopharm's committees was high in part due to the liberal per diem reimbursement rates that "made it worthwhile" for physicians to participate. Each Committee meets quarterly, usually at a resort location. At the meetings the Committee members participate in an agenda involving clinical presentations by Dr. Mill's research staff. Committee members also are given an opportunity to give feedback to the research staff.
The Research and Development Department also is responsible for monitoring, documenting, and implementing educational grants for programs and grand rounds, although the requests typically originate from the Sales and Marketing Department. An increasing number of "unrestricted educational grants" are also being requested by Part D Prescription Drug Plans. These grants are almost routinely granted, although the Department practice is to consult informally with Sales and Marketing to evaluate contract renewal dates, potential order size, and competitive alternatives before making the funding decision.
Recently the Research and Development Department also entered into a long term outsourcing arrangement with Total CME, a rapidly growing, highly profitable national provider of continuing medical education to physicians. Total CME arranges meetings, recruits faculty, and manages the meeting. These meetings were designed to entice physicians in leadership positions to attend these meetings at significantly reduced cost. Total CME is particularly effective at "recruiting" physicians who are either thought leaders on product "use" or who have an impact on formulary decisions by using its proprietary database.
The Research and Development Department also has implemented a Medical Liaison Program bringing scientists in the Company in contact with clinicians in the field. There programs are designed to raise awareness of clinicians in the field concerning the use of Myphan. Nopharm finds these scientific interchanges to be particularly helpful to the overall sales efforts, and the dialogue among physicians often leads to the submittal of an investigator initiated study by the physicians for which funding is routinely granted. The Research and Development Department also provided editors for these clinicians to assist in the publication of the results in these studies. The efforts of these "editors" were warmly received by busy physicians who welcomed this assistance.
SALES AND MARKETING DEPARTMENT
The Sales and Marketing Department is lead by Susan Lafarge, and has always been a challenge.
The Sales Department has an extensive worldwide sales force. In the United States the sales organization is divided into six regions, all of which are managed by regional sales directors through what has been historically a culturally decentralized management structure. Globally, the regions are divided into the EU, the Americas, Asia and Africa/Middle East. Nopharm's sales representatives are paid a base salary and a commission that is related to exceeding region specific sales goals established each quarter by Susan Lafarge.
In the U.S. Region 1 covers the East Coast with New York being the biggest market. Fletch Kramer is the Region 1 Sales Director. His cutting wit, aggressive sales techniques, and demanding sales quotas are all legendary. He is often seen in a late model sports car that is invariably red, and dressed in designer suits. Fletch often says that "the path to success in life is three steps: think big, close sales, gain bonus." If Fletch was nothing else, he was creative. . . and aggressive. Using his proven sales techniques he boosted sales within Region 1 dramatically within the last year and according to Mary Thomas and Susan has a "bright Nopharm future." Fletch designed what has become known throughout the company as "Operation Brightlight," a comprehensive sales and marketing plan that was originally only implemented in Region 1, but is now being instituted globally with a particular focus of laying the ground work for an aggressive Part D sales effort in the U.S. Fletch won't take "no" for an answer.
Fletch relies upon a variety of sales representatives and support staff in implementing the sales strategies in Region 1. All of the sales representatives are impressed with the able support they receive from Olivia Newton who is Fletch Kramer's assistant. Region 1 has also benefited by having an extensive relationship with Dr. Gary Miller, an independent physician in an academic medical center who is nationally known as an internist and member of a number of formulary committees for several Prescription Drug Plans. Dr. Miller speaks frequently and serves a consulting role for Nopharm.
The plan for improving for sales of Myphan through Operation Brightlight has been particularly impressive, earning the Region 1 sales force company wide email "attaboys" from Mary Thomas herself. Fletch Kramer's sales force led the launch of Operation Brightlight in which the following practices were instituted:
Training and Administrative Agreements.
The Sales and Marketing Staff was permitted to offer an "innovative" program that focused on providing training to customer staff on a variety of issues in pharmacy management and DUR programs. While these programs are widely available from commercial technology vendors, Nopharm staff claimed their technology, which was developed in conjunction with a leading Blue technology provider, was the market leader. Pricing for this program was on a "nominal basis" as a "public service" by Sales and Marketing. PDP plans particularly liked this strategy.


Consulting and Speaking Strategies.
Region 1 also embarked on a two-pronged strategy to create relationships with internists, endocrinologists, and neurologists, with a particular focus on physicians likely to serve on P & T committees for PDP plans. Consulting agreements were entered into with these physicians whereby they provided expert advice concerning Myphan and provider reaction. The Region 1 team also entered into speaker agreements with internists, neurologists, and endocrinologists to act when needed as speakers at conferences and grand rounds on Myphan. Region 1 obtained 100 physicians in each specialty and trained them about Myphan and all its uses. In the selection process for the consulting and speaker arrangements, Nopharm policies and procedures were distributed in each working group session, but as Fletch put in "Let's all remember why we are here." Working group members included representatives from Research and Development and Sales and Marketing. Speaker and consulting lists were routinely shown with prescribing volume attached to it, and P & T committee affiliation, and it became widely known among physicians that to remain on the "traveling squad" a "top ten" performance was required.


Formulary Management Program.
Sales and marketing also developed an innovative formulary management program that it offered as a "public service" to customers. This technology software allowed the management of formularies, updated through a web-based tool for clinical indications and clinical trials results. This technology was used in conjunction with a co-pay structure for products that permitted additional discounts on Myphan if its co-pays were established at levels less than competing products. Volume discounts and rebates kicked in if these pricing differentials were maintained and if sufficient volume increases in Myphan were achieved from the previous quarter.
By all accounts, including the latest quarterly sales reports for Region 1, Operation Brightlight is a great success.
Outside the US Operation Brightlight was also greeted with enthusiasm. In light of business and regulation differences Susan Lafarge made a variety of changes to the program. Operation Brightlight consisted on the following elements globally:
Physician Assistance Program.
In the Physician Assistance Program government employed physicians who moved their patients to Myphan were eligible for reduced charge CME and free personal digital assistants as part of Nopharm's patient management program.


Training and Administrative Program.
Operation Brightlight in the global context utilized the same program as implemented in the States with the modification that significant training will be undertaken in the global context for government programs, as well as government employed physicians, and private practice physicians.


Consulting and Speaking Strategies.
In the global context the program focuses on engaging on a country by country basis important thought leaders in the hypertension, endocrinology and neurological fields. The program expects broad participation in both the private practice and government physician settings. As Susan remarked, "for these physicians, the US dollar goes a long way......"
MANAGED CARE DEPARTMENT
The Managed Care Department at Nopharm is asked to wear many hats. It helps facilitate institutional sales, create strategic relationships, and looks for ways in which to develop technology sharing with a variety of participating organizations. The department has been recently reorganized to implement the company's Part D strategy. The department is lead by Claire Thompson who is known throughout the industry for years of experience at Blue Cross Blue Shield where she built networks of providers and developed PBM relationships. She also has extensive experience in formulary development, and this experience is particularly helpful for the Company's Part D strategy. During the course of her career she has foiled a number of questionable efforts of some of the most aggressive sales tactics and personnel. Having grown up in Wyoming, Claire is quite at home in Omaha. Highly unpopular among the incentive based sales force, she often relishes using her "lasso" to reign in the cowboys. Claire is assisted by Sarah Glen a recent addition to the Nopharm team who works directly providing support to Claire's Managed Care Department.
The Managed Care Department's goal as described in Claire's 2005 Department Strategic Plan is to build the Myphan distribution pipeline to the fullest. Her contracting process with both managed care companies and Part D PDPs routinely produces "clean contracts," although it is not quite clear that her department understands the new rules of the game for Part D.
The Managed Care Department personnel in Region 1 have created relationships with a number of PDPs. Included in Region 1's success stories are contracts with The Senior Plan and HMO USA. Discounts are typically based on volume and improvements on incremental sales for all agreements. A Data Purchase Agreement has recently been entered into with The Senior Plan providing for payments for data on use of Myphan and unrestricted educational grants to sponsor community forums explaining Part D for seniors. These sessions organized by The Senior Plan marketing department provide seniors with general information about Part D and the specific plans offered by The Senior Plan.
The Managed Care Department, in conjunction with Research and Development, recently entered into an investigator initiated study with the medical staff at HMO USA to review the impact of Myphan on Alzheimer's disease in their patients. This study will provide additional Phase IV information to determine how Myphan is tolerated in the target population. The approval of the proposal was the subject of some debate within the Company given the potential lack of new "scientific data," although the sales force ultimately prevailed given the "lives" likely to be covered by HMO USA's plans.
In an effort to supplement market presence, the Managed Care Department in Region 1 entered into a Sales and Marketing agreement with a new company, PharGo, known for its Mary Kay like motivational techniques for its sales force. The agreement has a 5-year term and covers only the sales of Myphan in Region 1. Sales commissions are based on a percentage of total sales, with override commissions based on PharGo meeting certain sales thresholds. Under the Agreement, PharGo is required to "abide by all applicable laws and regulations concerning the sale and distribution of the Product." Quarterly sales strategy meetings are held in order to coordinate efforts by PharGo with the Nopharm internal sales force. Nopharm's Fletch Kramer approves PharGo's general sales strategies in consultation with the Managed Care Department, although none of these "special deals" find their way to the Compliance Department. Recently these sales strategies have included grants for staff training, and access to Nopharm's technology management system.
The Managed Care Department also implements many of the relationships with pharmacy benefit managers, including recently entering into a long term agreement with the country's leading PBM, Pharma Benefit Managers. The contract as signed is "clean," but rumors abound that certain "nominal" pricing arrangements have been structured with the PBM's and their PDP customers for Myphan.
Rumors also are circulating that Fletch Kramer has offered rebates and discounts to PDPs in the Part D bidding process. Reports have been received that Fletch approached all 5 PDP bidders in region 1 with a "deal." In exchange for uniform inclusion of Myphan in all of the PDP bids, Fletch agreed to rebate any Myphan costs above "stop loss" levels through a reduction in Myphan non-Medicare costs in the parent organizations of the PDPs that provide commercial prescription drug coverage. Fletch boasted that this program helps create a "level playing field."
(c)Keith Korenchuk
McGuireWoods LLP
2005