KEYNOTE SPEAKERS

Thomas W. Abrams, RPh, MBA
Director, Office of Prescription Drug Promotion, US Food and Drug Administration, Silver Spring, MD

Richard Bistrong, MA
Chief Executive Officer, Front-Line Anti-Bribery LLC, Contributing Editor, FCPA Blog, Former Confidential Human Source (CHS) and Cooperating Witness, FBI and US DOJ, Former Cooperating Witness, City of London Police, HMRC and CPS, UK, New York, NY, USA

Mary E. Riordan, Esq.
Senior Counsel, Office of Counsel to the Inspector General, Office of Inspector General, US Department of Health and Human Services, Washington, DC
CONGRESS CO CHAIRS

Michael R. Clarke, JD
Vice President, Corporate Compliance, Indivior Inc., Richmond, VA
(PCF Co-Chair)
Sujata T. Dayal, JD
Vice President, Health Care Compliance & Privacy, Pharmaceuticals Group, Johnson & Johnson, Titusville, NJ
(PCF Secretary)

Jeffrey M. Kawalek, MBA
Senior Director, Ethics & Compliance, North America, Ipsen Biopharmaceuticals, Inc., Basking Ridge, NJ
(PCF Chair)

Jennifer McGee, JD
Vice President and Chief Compliance Officer, Otsuka America Pharmaceutical, Inc., Rockville, MD
(PCF Treasurer)

Margaret Sparks, JD
Associate Vice President, North America Ethics and Business Integrity, Sanofi US, Bridgewater, NJ
(PCF Co-Chair)

Joe Zimmerman
Vice President and Chief Compliance Officer US, Ferring Pharmaceuticals, Parsippany, NJ
(PCF Co-Chair)
PARTICIPATION OPTIONS
TRADITIONAL ONSITE ATTENDANCE
Simply register, travel to the conference city and attend in person.
Pros: subject matter immersion; professional networking opportunities; faculty interaction

LIVE AND ARCHIVED WEBCAST PARTICIPATION
Watch the conference in live streaming video over the Internet and at your convenience at any time 24/7 for the six months following the event.
The archived conference includes speaker videos and coordinated PowerPoint presentations.
Pros: Live digital feed and 24/7 Internet access for next six months; Accessible in office, at home or anywhere worldwide with Internet access; Avoid travel expense and hassle; No time away from the office.


WEBCAST INTERFACE SAMPLE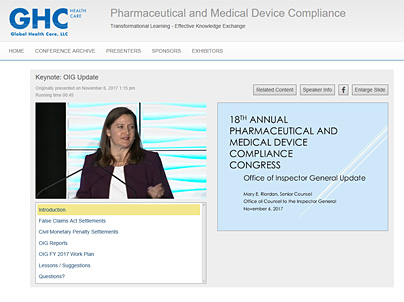 Click here for a sample stream


2018 GLOBAL PHARMA COMPLIANCE CONGRESSES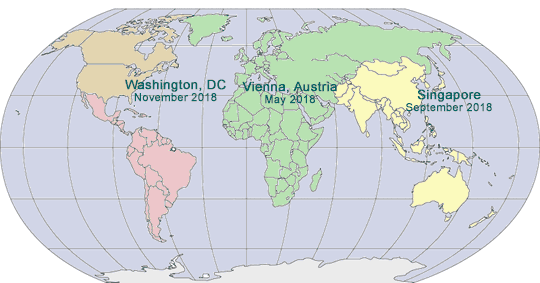 TWELFTH INTERNATIONAL PHARMACEUTICAL AND MEDICAL DEVICE COMPLIANCE CONGRESS
Sponsored by International Society of Healthcare Compliance Professionals (ETHICS)
Media Partners: Life Sciences Compliance Update
May 14 – 16, 2018
Hotel Savoyen
Vienna, Austria
www.InternationalPharmaCongress.com
EIGHTH ASIA PACIFIC PHARMACEUTICAL AND MEDICAL DEVICE COMPLIANCE CONGRESS
Sponsored by Asia Pacific Healthcare Industry Compliance Team
Cosponsored by International Society of Healthcare Ethics and Compliance Professionals (ETHICS)
Media Partners: Life Sciences Compliance Update
September 10 – 12, 2018
Singapore
www.AsianPharmaCongress.com

NINETEENTH ANNUAL PHARMACEUTICAL AND
MEDICAL DEVICE COMPLIANCE CONGRESS
A Hybrid Conference and Internet Event
Sponsored by Pharmaceutical Compliance Forum (PCF)
November 7 – 9, 2018
Mandarin Oriental
Washington, DC
www.PharmaCongress.com
PAST GLOBAL PHARMA COMPLIANCE CONGRESSES